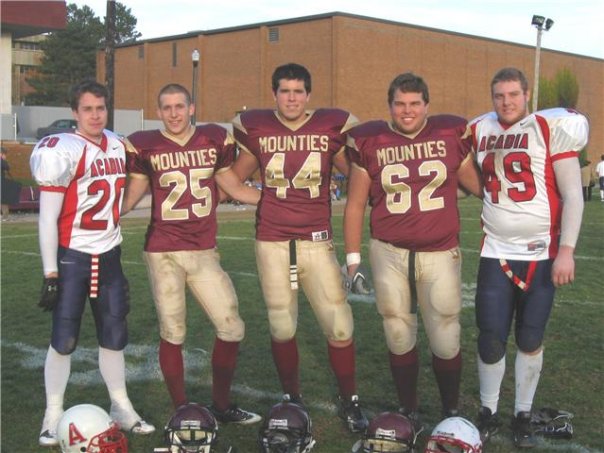 Fredericton players gather after Acadia-Mount A game, October 25, 2008
Left to right: Bobby McIntyre, Elliott Hicks, Ryan Downe, Chris Munn, Jacob Thomas
N.B. players Hicks, Downe, Thomas and McNally invited to junior national grid team tryout
April 18, 2009
Mount Allison University defensive back Elliott Hicks, Mount A defensive lineman Ryan Downe, Acadia defensive lineman Jacob Thomas and Acadia linebacker Ed McNally have all been invited to tryouts for the Canadian junior national football team that will be competing in the inaugural International Federation of American Football Junior World Championship taking place in Canton, Ohio from June 27 to July 5, 2009.

Hicks, Downe and Thomas are all from Fredericton. McNally is from Moncton.
The tryouts are scheduled for Concordia University in Montreal on May 30-31, 2009. Team Canada's head coach is Glen Constantine who is also the head coach of the 2008 CIS Vanier Cup champion Laval Rouge et Or. Acadia University head coach Jeff Cummins is also on the coaching staff.

Junior players cannot turn 20 in 2009.
Hicks and Downe are former Fredericton High Black Kats. Thomas played for the Leo Hayes High Lions.
McNally was a member of the MacNaughton High Highlanders.

Hicks was also a member of the 2008 MFL Capital Area Gladiators, winners of Mariner Bowl II.
IFAF Junior World Championship Website
International Federation of American Football Website