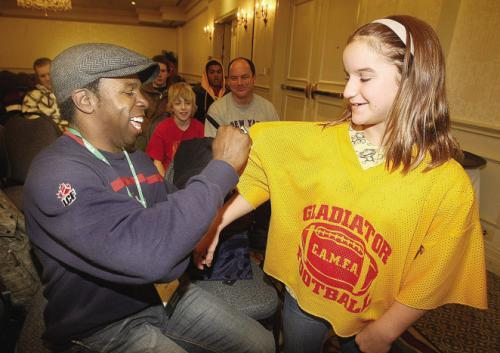 SIGN OF THE TIMES: Former Canadian Football League great Mike (Pinball) Clemons was in Fredericton on Thursday as the keynote speaker for the Canadian Home Builder's Association of New Brunswick conference. He also spoke with a group of minor football league players. Above, he signs a jersey for Elizabeth Fagan, 12, of the Oromocto Grizzlies.

Contagious enthusiasm
Clemons | Former CFL great with the Toronto Argonauts tackles each day with a positive approach

By BILL HUNT

Published in the Daily Gleaner on February 13, 2009
Appeared on page B1

Mike (Pinball) Clemons stands five foot six

But the CEO of the Canadian Football League's Toronto Argonauts casts a long shadow. Actually, he throws a very bright light, brighter even than that wide smile that is his signature.

The four-time Grey Cup champion - three times in a dozen years as a player with the Argos, once more as the team's head coach - was in Fredericton on Thursday as the keynote speaker for the Canadian Home Builder's Association of New Brunswick conference. And whether addressing delegates at that event in the Main Ballroom or in a smaller setting with 20 minor football players and a handful of parents, Clemons burst into the room with the same energy and enthusiasm he burst down the football field.

"I'm excited to be here with you today," he told them. And he meant it. And it was contagious.

He had 16 kids up and doing pushups at eight o'clock in the morning. And liking it. He had them chanting and clapping. He shook their hands and he hugged them and he talked to them and he had them laughing and listening. At eight o'clock in the morning.

Officials from the Home Builder's Association finally pulled him away - he was due to speak farther down the hall - and he did it again. And it wasn't so much about Pinball Clemons, football great; or the Toronto Argonauts. Oh, there was some of that, to be sure. But it was mostly about life and attitude and success.

"Your circumstances are responsible for who you are, but you're responsible for who you become," he told the kids and then the delegates, and Clemons is nothing if not proof of that.

He told the story of his own modest beginnings, born to a single mother at age 18; signing up for football, the tiniest kid there at age eight in his native Dunedin, Fla. His number 32 jersey - O.J. Simpson was his football idol at the time - retired in a local restaurant by the time he was 11.

"I could always run," he noted.

In fact, he ran for more yardage than any other professional football player - more than 25,000 yards in total - in his career before retiring to become the team's head coach in 2001. He had two separate stints coaching the Argos, accumulating 68 wins, the second most as a coach in Argo history. He's now the CEO of the league's marquee franchise, in its biggest and most important market.

"But you know what got me to this point?" he told the kids. "It wasn't football. It was education that made the difference for me."

He got an economics degree from William and Mary University in Virginia - Super Bowl winning coach Mike Tomlin of the Pittsburgh Steelers is also an alum - spent a year with the NFL Kansas City Chiefs, then came to Canada and began the construction of a football career and a legacy.

"Don't think your excellence ends on the football field,", he told Oromocto High School player Matt Fagan - at confrontationally close range, actually, but loud enough for everybody to hear.

"Excellence is about having the same diligence in the classroom that you have on the field," he said. "Excellence is about having the same credibility at recess as you do on offence. The greatest game you play is the one you engage in every day."

Message received.

Josh Blanchard, who sat in the first seat in the front row - not that it mattered, because Pinball worked and wandered the room and pressed the flesh with pretty much everybody - called it "pretty exciting. A CFL player coming down ... it's a pretty exciting experience."

Blanchard, 16, said it was "a little bit intimidating" when Clemons called on him, "but I really enjoyed it. I didn't think he was that kind of people person, but I really enjoyed it."

They seemed to enjoy it down the hall too. Clemons had them clapping and rapping - he would softly say "Sweet" and they would respond "Spot,", which became a recurring theme - and he worked the room for more than two hours and got a standing ovation at the end of it. He hugged everybody who came up to shake his hand and flashed them that trademark grin.

"I really don't believe in a bad day philosophy," he said. "The real key is that it's a choice. I've never gotten up a day and decided I was going to feel bad or be miserable. And it actually worked out in my favour."